Rabbit pellets and chicken feed appear quite similar, so you may think it's fine to use these foods interchangeably. After all, most chicken feed is grain- or corn-based, and these seem like healthy ingredients. With the size and texture of chicken feed, your rabbit may not be able to tell the difference.
Chicken pellets are bad for rabbits. Chickens and rabbits are two very different animals with their own dietary needs. Since chickens are omnivores, their feed contains protein and calcium. Rabbits do not need calcium included in their diet, and are not able to digest the protein sources in chicken feed. The grains and nutritional supplements in chicken pellets are indigestible for rabbits.
Even semi-regularly offering chicken feed to a rabbit will lead to health problems. Aside from the possibility of impaction or GI stasis, enteritis can result from an imbalance in gut bacteria. A lack of dietary fiber and high carbohydrates can trigger explosive growth in E.coli or Clostridium bacteria. Over time, feeding chicken feed to a rabbit will cause weight gain and obesity, leading to other health conditions.
Can Rabbits Eat Chicken Feed?
Rabbits should never eat chicken feed. It isn't healthy for bunnies, and it isn't even a good filler food or rare treat.
Chickens and rabbits are two completely different species. Their diets are vastly different, as are their digestive systems. Rabbits are strictly herbivores. Their natural diets consist of between 70% and 80% grass hays. Herbs and vegetables comprise the remaining percentage.
Unlike rabbits, chickens are omnivores. With that in mind, the dietary needs and digestion system of a chicken are very different from a rabbit. Chicken feed is specially formulated to provide chickens with all the nutrition they need. Unfortunately, these needs can directly conflict with a rabbit's needs.
If you feed your rabbit chicken feed, that will curb its immediate hunger. However, the rabbit will gain no nutritional value from eating this food. Its body will continue to burn more energy than it has consumed, which may lead to lethargy. Sadly, that's the least of its problems. After consuming chicken feed, your rabbit could suffer dangerous health complications.
As noted by Cambridge University, rabbits have specific bacterial colonies inhabiting their gut. An improper diet disrupts these colonies, which leads to serious and potentially fatal conditions. The food items in chicken feed can cause harmful bacteria to grow well out of control.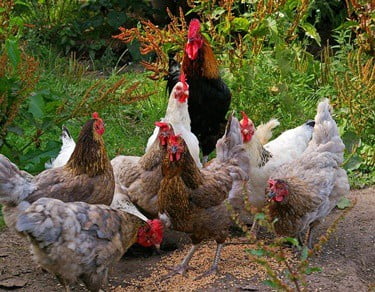 Is All Chicken Feed Bad for Rabbits?
Of course, not all chicken feed is the same. There are many blends and textures for you to consider. Can any of those choices help avoid impaction in rabbits? Unfortunately, the answer is no. You may see a variety of terms used when discussing chicken feed, including:
Technically, feed and pellets are the same. The difference lies in how they are processed and formed.
Pellets are general feed that's compressed into cylinder shapes.
Crumble is loose grains that have been split open for easier feeding.
Scratch is another term for this loose grain feed. Often, this is tossed on the ground to encourage chickens to scratch around and seek out the tasty morsels.
Chicken feed can refer to any one of these foods. There is also mash, which is unprocessed feed. Sometimes mash will be combined with hot water to create a porridge-like mixture for young or old chickens.
What Is in Chicken Feed?
So, you may think a loophole can be found in the ingredients list. There are many different types of chicken feed with varying levels of quality. Can rabbits indeed eat chicken feed, so long as it's the right kind? Unfortunately not. All chicken feed is bad for rabbits. This is because of its fundamental ingredients. Usually, chicken feed is made up of:
Cereal grains: These are typically wheat or corn.
Vegetable and animal protein: This is often meal made from bone, meat, or high-protein vegetables like soya beans.
Nutritional supplements: These additives are included to ensure that the chickens get all the vitamins and minerals needed from the food.
Depending on the quality of the chicken feed, there may be more or less of each ingredient. Unfortunately, most of these foods are indigestible for rabbits. That's the primary risk of giving chicken feed to bunnies.
For comparison, good quality rabbit pellets contain only hay and nutrient supplements. Any rabbit pellets that contain grain or corn are using that as cheap filler. Therefore, they should be avoided for the health of your rabbit.
Will Chicken Feed Hurt Rabbits?
Technically, chicken feed is not toxic to a rabbit. Even still, chicken pellets are not only bad for rabbits – they can be deadly. That's because they're largely indigestible. When given food that its body can't process, a rabbit will encounter many digestive issues.
If your bunny weathers those complications, you'll run into a second issue. A rabbit fed only chicken pellets will experience severe nutrient deficiencies. Here are other ways chicken feed can hurt your rabbit:
Gastrointestinal Problems
Gastrointestinal issues are prevalent in domestic rabbits. Largely, that's due to improper diets lacking in fiber. This can lead to impaction and stasis, both of which are fatal if left untreated. Acting fast is key in these situations. The New Zealand Veterinary Nurse states that if a rabbit stops eating or defecating even for a single day, you should act immediately.
Impaction and GI stasis both involve matter slowing or totally ceasing to move through the gut. Both can cause – and be caused by – each other. Impaction is a true blockage that literally prevents matter from moving through the gut. Stasis is where the matter slows or stops moving through the gut.
Both of these conditions wreak havoc on the bacterial colonies of the intestines. The cecum, where cecotropes are formed, will also be badly affected. This results in:
Painful bloating
A loss of appetite
The inability to pass waste
The high protein and carbohydrate foods in chicken feed can cause gastrointestinal problems. Specifically, they unbalance the bacterial colonies. The tougher grains, like corn and whole wheat, can also cause blockages. Chicken feed may disrupt the cecum, which, in turn, interferes with the production of cecotropes.
Enteritis
Chickens need protein in their diets. Vegetable and animal protein is included in good quality chicken feed. However, rabbits cannot process meat. The excess amount of vegetable protein can cause the Clostridium or E.coli bacteria to grow out of control, leading to enteritis. Laboratory Animals notes that E.coli is the bacteria more commonly responsible for enteritis.
When the gut is processing matter as it should, it's unlikely for enteritis to form. Anything that alters the bacterial colonies of the gut has the potential to trigger enteritis. Foods high in carbohydrates and low in fiber, like chicken feed, are particularly dangerous.
While there is fiber in chicken feed, it is not nearly enough for a rabbit. Even worse, a rabbit can't efficiently extract this fiber from the tough grains. Bunnies will get very little nutritional value from chicken feed. Symptoms of enteritis include:
True diarrhea
Loss of appetite
Bloating
Pain
This condition is common in rabbit kits during the weaning process. Rabbit kits should never be fed chicken feed. Likewise, they should not have access to areas where chickens roam or inhabit.
Obesity
Rabbits have evolved to thrive off of high-fiber, low-calorie diets. Chicken feed is the opposite. It is high in calories when compared to a rabbit's natural food. All of those calories, from the protein and the carbohydrates, get stored as fat. A rabbit fed chicken feed regularly will quickly gain weight and eventually become obese. Vet Record makes two points:
Obesity in domestic rabbits and health problems are on the rise.
Cereal grains should be avoided.
Providing a rabbit with chicken feed is going to result in weight gain, even if fed semi-regularly. Obesity in rabbits causes a number of problems. As delicate creatures, obesity causes:
Joint pain
Movement issues
Breathing issues
Severely overweight rabbits may also struggle to:
Groom themselves
Pass waste
Aside from a poorer quality of life, the inability to practice coprophagy causes nutritional deficiencies to form.
Hepatic Lipidosis
Hepatic lipidosis, or liver disease, is triggered by an excess of fat stored in the liver. Specifically, these are fats and fatty acids that are normally extracted from cecotropes and then processed.
A diet high in calories (like with chicken feed) may cause this. You'll see it play out when the rabbit becomes obese and can't eat its cecotropes. If the rabbit stops eating its cecotropes, it is unable to properly process these fats. The fats will accumulate in the liver.
Usually, hepatic lipidosis is triggered by the rabbit ceasing to eat food. Therefore, cecotrope production is halted. Hepatic lipidosis is life-threatening and can cause a rapid decline in health once triggered. Signs of this disease include:
Loss in appetite
Lethargy
A reduction in fecal pellet size
A halt in fecal matter entirely
Poor coat quality.
Seek out a vet immediately if you suspect liver disease.
Stones
Chickens need dietary calcium, especially those that are kept for egg laying. Their eggshells need calcium to form correctly. Additionally, the hens need dietary calcium to keep their own bodies healthy during egg production. As such, chicken feed contains calcium supplements. Anyone who keeps chickens for eggs may seek out chicken feed with extra calcium.
This abundance of calcium causes problems for rabbits, and for a curious reason. A rabbit does not need calcium included in its diet. Instead, it's able to produce its own calcium. This process is not fully understood by science at this point in time.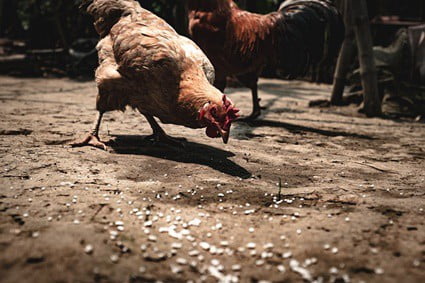 A rabbit that's fed chicken feed will have no need for this surplus of calcium. Instead, it will eliminate the excess in its urine. This urine will be a thicker sludge with a gritty consistency. These are the calcium salts. This is an ideal scenario for a rabbit with too much calcium. Other times, stones will form.
Bladder stones are hard formations of calcium. They can develop in the bladder, kidneys, or urethra. At times, the rabbit may pass these without issue. Other times, the stones continue growing until they block the urethra or begin to cause discomfort or pain. At this point, the stones will likely need surgery to remove. Signs of stones include:
Issues with urinating
Bloody urine
Abdominal discomfort
Loss of appetite
Stones in the litter box
Will Rabbits Eat Chicken Food?
Many internet forums have spread the opinion that rabbits can safely eat chicken pellets. This is a misconception reinforced by the fact that rabbits do eat it.
While a rabbit will accept certain foods, doesn't mean it should. Bunnies eat harmful foods by mistake or ignorance. Motivated by curiosity, your bunny might like the smell or texture of the grain. When tasted, it may enjoy the sweet corn flavor. This could prompt it to continue eating the chicken feed, unaware of the coming danger.
Instead, bunny owners should keep their rabbits away from chicken feed entirely. If you cohab rabbits and chickens or they share a roaming space, be sure any leftovers from feeding time are cleaned up.
Chicken feed is not good for rabbits. It's rich in protein, carbohydrates, and calcium. Chicken feed is full of nutrients that rabbits don't need in high quantities. Fed even semi-regularly to a rabbit, chicken feed will cause health problems. This is due to the surplus of calories, nutrients, and minerals.
A rabbit's diet should consist largely of grass hays, with vegetables and herbs supplementing. None of the foods found in chicken pellets are good for a rabbit to eat. So, it's best to keep your chicken feed for chickens, even if you have rabbits and chickens living together.