When you find a wild baby rabbit, you might need to step in to help it survive. Fewer than 10% of orphaned bunnies survive longer than a week, so swift action is often required to save them.
Wild baby rabbits don't do well in captivity. Not only do their natural survival instincts prevent them from being a suitable pet, but they spread dangerous diseases. Most bunnies become stressed and depressed living in small hutches and cages. Their diet is also not as varied when living in captivity than the wild.
Before you attempt rehabilitation, you must understand the laws of your state. Keeping wild rabbits is illegal in many areas. So, whether you find an orphaned rabbit or just fancy picking up a new pet, there are consequences.
Can You Tame A Wild Baby Rabbit?
Wild rabbits are hard to tame. While newborn bunnies are easier to domesticate, rabbits that are a few weeks or months old are tricky to handle.
Baby rabbits see humans as predators. They have close to 360o vision, which allows them to spot predators from any angle. As you approach, they will run away and seek refuge somewhere safe. Catching a rabbit is almost impossible unless it's injured and can't flee.
Taking a baby rabbit from its mother is harmful. Bunnies need their mother's milk until they are around 8 weeks old. Removing this crucial milk supply prevents a baby rabbit from getting the essential nutrients it needs to survive and thrive.
The doe will also mourn the loss of her babies. Once a rabbit has bonded with her kits, the loss of them can be traumatic and impossible for the mother to cope with.
As well as the above, there are many things to think about before you commit to keeping a baby rabbit in captivity, including:
Diseases
Wild rabbits harbor a range of dangerous diseases. As described by VCA Hospitals, there are two primary infectious diseases and viruses that are rarely seen in indoor pets – myxomatosis and viral hemorrhagic disease.
Myxomatosis
The myxoma virus causes myxomatosis. It's usually severe and spreads quickly to other rabbits, most of which die two weeks after developing symptoms.
The disease is most common in wild rabbits. When bringing one into your home, you must be careful to vaccinate all rabbits before coming into contact with each other.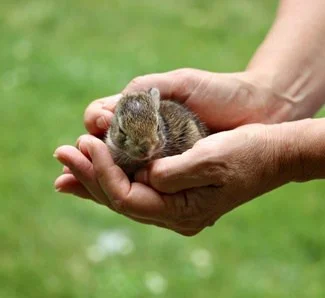 Viral hemorrhagic disease
Calder Vets describes viral hemorrhagic disease as a highly infectious, often fatal disease that mostly affected wild rabbits. However, it can also spread to other domestic pets, like dogs and cats.
It attacks the rabbit's internal organs, causing fatal hemorrhaging. Viral hemorrhagic disease spreads by direct contact or through the droppings of an infected rabbit. Rabbits that live in the same hutch will almost certainly pick up the condition.
When bringing a wild baby rabbit into the home, make sure it's up to date with all vaccinations and is checked over by a vet for any sign of infection or disease. If there are any health issues, all animals must be separated.
Time and Effort
Wild baby rabbits in captivity need as much care as domesticated pets – if not more so. Most will still be relying on their mothers to survive when you bring them into the home, so they won't have the necessary skills to look after themselves yet.
Instead, you will have to provide a suitable nest, ensure an appropriate temperature, and make kitten milk replacer that contains the nutrients the baby rabbit needs on a daily basis.
All of this takes time and effort. Wild baby rabbits require around the clock care for the first few weeks, so you have to ask yourself whether you have this time to spare domesticating the animal.
Other Rabbits
Wild and domesticated rabbits don't mix well together. If you already own pet rabbits, you will need to keep them apart. Some of the main differences between both wild and domesticated rabbits are as follows:
Wild rabbits are more nervous than domesticated pets and see most other creatures as predators.
Wild rabbits are more likely to be jealous and protective over their food.
Wild rabbits have not been spayed or neutered.
Wild rabbits find it hard to infiltrate an existing group of rabbits.
Wild rabbits are more likely to harbor fatal diseases.
Also, a fact sheet by the Maryland Cooperative Extension reports that Eastern Cottontail rabbits have 3-4 litters a year and a 75% to 85% mortality rate.
Because of these strong mating instincts, wild bunnies will attempt to mate with the tame rabbit. The babies would then inherit their parent's wild instincts that are difficult for pet owners to control.
Similarly, temperament issues are common between wild and domesticated animals. Even though neither is likely to start a fight, their differences often cause misunderstandings. Wild rabbits are easily startled, which can lead to one of the animals becoming hurt in self-defense.
These differences mean that the rabbits can't co-exist peacefully and will stress each other out.
Nervousness
Wild rabbits will never trust humans in the way that pet bunnies do. Even if you've raised your rabbit from a baby, its wild instincts are too strong to forge a bond.
Wild rabbits are programmed to be afraid of predators. That includes us, who they see as no different to a fox, snake, or bird. We're large creatures who are intimidating to small, vulnerable bunnies.
The reality is your relationship with your wild baby rabbit will never develop – you will simply be a caregiver to keep the bunny alive. Companionship is something most pet owners crave, so don't be surprised if your wild bunny never bonds with you.
Hutch
Wild rabbits will grow distressed at the prospect of living in a hutch. Stressed animals cause damage to the cage as it attempts to chew through the wire or wood.
They may also harm themselves due to the psychological strain. They don't make good house pets for the same behavioral reasons – your home will become a destruction zone as the rabbit chews through furniture and wires.
It's not fair to subject an animal to this. If you've successfully rehabilitated an injured animal, it's best to release it back into the wild where it can live out its days in its natural way.
Remember to release the bunny close to where you found it, as rabbits tend to stick to the same small area near to their nest throughout their lives.
How To Trap A Wild Baby Rabbit
If you spot a sick or injured baby rabbit that needs veterinary treatment, catching it is one of the most difficult issues you'll face.
Bunnies are surprisingly fast and can run between 24-45 miles per hour. Chasing after a rabbit isn't viable, so you'll need to create a humane trap instead. You can do so by following these steps:
Purchase or make a live trap. The best ones come with a trap door and several mechanisms that close as the bunny enters.
Find the ultimate spot to place the trap. You might need to observe where the rabbits are found first to choose the best area.
Place the trap on a small, narrow trail that baby rabbits can't go around. This will force them into the trap.
Use bait, like carrots, lettuce, apples, or alfalfa. Only use fresh vegetables – if a day or two has passed with no success, replace them.
Place the food in the live trap.
Check the trap as often as you can – every few hours. You don't want to leave a baby rabbit trapped in there for too long.
Take the rabbit to the nearest veterinarian to get it checked over.
With all these steps, the most crucial thing is to minimize the amount of stress the rabbit is under. Stress can be fatal, especially in young rabbits, so be careful to set the trap up properly to prevent injury.
Also, place the trap somewhere quiet where predators are less likely to roam.
How To Domesticate A Wild Baby Rabbit
We don't recommend capturing a wild baby rabbit that doesn't need human assistance. You should only keep a bunny in captivity if it has no chance of survival in the wild. If the animal can be rehabilitated, it should be returned to the wild when it is strong and healthy.
However, if there's no chance of the baby bunny surviving on its own, you need to be aware that it will retain many of its wild tendencies, even as a youngling. Be careful of these behaviors
To domesticate the rabbit and build that all-important trust, work on these crucial steps:
Get the Baby Rabbit Used to You
One of the most important first steps is to encourage the baby rabbit to get used to you. While you may never form a strong bond, it will help the bunny to know that you're not a threat.
Don't pick the rabbit up and force it to cuddle you, as you will only stress it out. Instead, maintain a cool, calm attitude at all times when you are around the rabbit.
Allow the Rabbit to Run
Your baby rabbit will be feeling scared of you, so don't stop it from running away. Ensure you have a secure space for it to hide in so that if can find safety from you.
Preventing the animal from running away can cause a heart attack that leads to death. The rabbit might also go into shock, causing gut stasis and starvation as a result.
Lie Down with It
To allow the baby rabbit to become comfortable in your presence, sit or lie down so that you don't look as big and imposing.
Sit still and don't make a sound. Allow the rabbit to sniff you and get a sense of who you are. Make no sudden movements or noises and let the rabbit move at its own pace.
Wear Newly Washed Clothes
Don't wear anything that's likely to smell like another pet. The baby rabbit will see this as a threat from a predator and won't go near you.
Wherever possible, grab some newly washed clothes that haven't picked up the smell of predators or the outdoors. Also, wash your hands before you approach the rabbit to remove any of-putting scents.
Leave A Trail of Food
To entice the baby rabbit to come to you, leave a trail of tasty treats that lead to your direction. Don't pet it when it comes near but allow the rabbit to sit near you so that it gets used to your scent. The rabbit may run off quickly, but continuously repeat the process until the bunny knows you won't cause it any harm.
Don't Pick It Up
Bunnies are ground dwellers and lifting it off the ground will cause extreme stress and panic. Baby rabbits will see this as an attack and may go into shock.
Baby rabbits are also likely to kick and scratch to get free, causing you pain and injury. Also, if the bunny leaps to get free, it's likely to hurt itself. Keep the bunny at ground level at all times to maintain normal stress levels.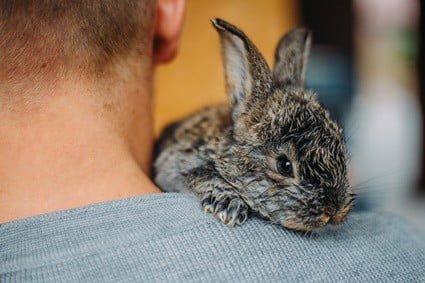 Do Wild Baby Rabbits Make Good Pets?
Every rabbit's personality is different, but as a rule of thumb, wild bunnies rarely make good pets. This is something that's common amongst all wild rabbits.
They're hard to tame. Wild baby rabbits are known for being skittish and nervous. You can't bring them inside the home or pick them up and cuddle them.
For this reason, you shouldn't compare a wild rabbit to one that's domesticated. This is something that disappoints many pet owners.
Wild rabbits also don't take very well to confinement. They're used to digging their own burrows with multiple entrances and exits. A small cage causes claustrophobia, stress, and unhappiness.
They also spend most of the day nibbling on different types of plants and grass and get their nutrients through the food they find. They have a much more varied diet as they have access to clover and wildflowers.
A commercial pet diet is limited in comparison and can cause a range of health problems, including blindness.
To put it simply, wild rabbits deserve to be out in the wild, even if their lifespan is only 1-3 years.
Is It Legal to Keep A Wild Baby Rabbit?
In most US states, it's actually illegal to keep a wild baby rabbit as a pet. In most places, you cannot legally tame a wild rabbit unless you have a license with your state's Department of Environmental Protection.
Unless you see a wild baby rabbit that's severely injured or sick, the animal must be left alone. Where human intervention is required, you should get in touch with your nearest wildlife rehabilitator as soon as you can.
They will come and pick the rabbit up. They also have access to fully trained staff who can nurse the bunny back to health before returning it into the wild. Unless you're qualified, you're likely to do more harm than good.
So, you can't simply go outside and find a bunny to become your new pet. If caught, you'll likely face severe fines. The rabbit will also be confiscated, causing further distress.
While wild baby rabbits can survive in captivity, they won't enjoy it. Most will become stressed and anxious and spend most of their life trying to escape their cage.
Wild rabbits aren't programmed to thrive in captivity. On the contrary, the health issues associated with stress may actually cut their lifespan short. Stick to domesticated rabbits if you're looking for a pet.